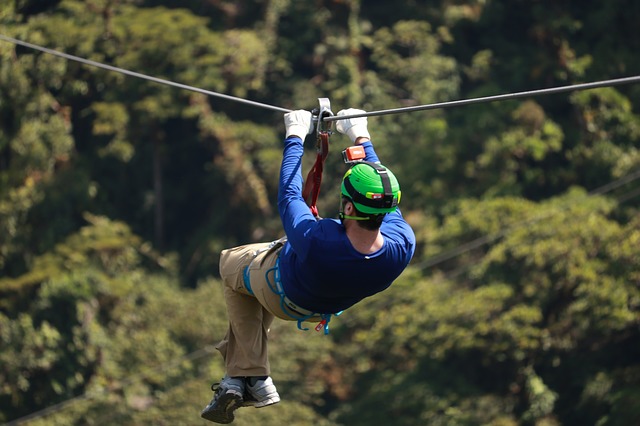 Advertised as fun and safe, the rising rates of zip line injuries show that these attractions are often a one-way trip to disaster. Lax safety standards, poor training, and poor maintenance can put riders in danger.
The Rising Risks of Adventure Tourism
Adventure tourism is on the rise, and with it, tourism operators are unrolling a bevy of new, exciting rides to attract people through their doors. Zip lines are some of the most popular of these because they offer incredible views of scenic landmarks. Moreover, they give users the opportunity to "fly" through the air and soar high above the beauty below.
Zip lines are proliferating in Mexican resorts and countries throughout the Caribbean including Costa Rica, Dominican Republic, Colombia, Panama, and elsewhere. As tourism to these countries grows, so too are the number of zip lines that users can choose from. Enticed with views and promises of unparalleled views of rainforests and jungles, many tourists fail to recognize the very real risks these rides take them on. Many of these countries have lax construction standards and poor oversight. Each time a tourist straps in to take off, they are placing their life in the hands of often corrupt governments and unskilled laborers who built the ride for the lowest bid. The risks simply aren't worth being taken for a ride.
Even in the United States, these rides are anything but safe. In 2015, the American Journal of Emergency Medicine studied injuries that occurred in the US between 1997 and 2012. Over this period, the number of injuries rose from several hundred per year to well over 3,600. These injuries included everything from broken bones and lacerations to concussions and contusions that required hospitalization. Of those who suffer injuries, the majority occur at commercial courses/retreats, and camps.
From 1997 to 2012, more than 17,000 people suffered injuries on zip lines that required emergency medical treatment. Of these, nearly 45% were children under the age of 9. Of those who suffered injuries, fractures and injuries to the upper body were the most common. The most common cause of injury was falling from the zip line or the platform. In fact, more than 77% of the injuries were the result of falls. Of those who require hospital care, more than 12% require at least one overnight stay in a hospital. This is significantly higher than hospitalization rates for many other sports-related injuries.
Negligence of the Operator
Poor staff training is one of the most common causes of injuries on zip lines. Poor training can cause operators to improperly secure passengers. It can cause operators to "miss" critical safety hazards such as faulty railings, broken clips, worn cables, or frayed safety straps. When operators or supervisors fail to spot and correct problems before sending a customer down the line, they are placing that customer at risk of serious harm.
Poor equipment maintenance is another common cause of injuries. Poor maintenance can include failing to inspect cables on a regular basis. Each year, the entire zip line system needs a full inspection by a certified professional. It can include failure to replace damaged parts, and failure to properly store and maintain harnesses, helmets, and other safety equipment. When injuries occur, a Las Vegas injury attorney can pursue claims against the zip line operator for their negligence.
The Risks of Riding in Nevada
Precious few states have strong safety standards for zip line operators. Nevada is not among them. In fact, the only place in Nevada with even moderate standards is Clark County, and these standards are hardly worth bragging about. In Las Vegas, zip line operators are subject to minimal regulation. These include reviews of engineering plans and schematic drawings, the operations manual, inspection records/logs, and staff training records/certificates.
However, at no time do inspectors thoroughly inspect the zip line for safety. They do not inspect cable tension and terminations, deck supports, or the fasteners, staircases, or other structural elements. The state requires these inspections to be performed by a 3rd party inspector. While some operators voluntarily follow construction, maintenance, and safety standards established by the American Camp Association, there are no regulatory requirements to do so.
As a result of these loose safety standards and the minimal oversight conducted by inspectors, riders in Nevada are at elevated risk of injury or death every time they climb atop a zip line. While riders may feel safe when they take a ride, the lack of strong regulations leaves them exposed to a wide range of injuries.