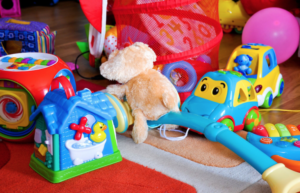 Choking is the most common toy-related injury, but when a child's toy is poorly designed or improperly manufactured, playtime can lead to burns, broken bones, cuts, suffocation, drowning and even chemical exposures. When a child is injured by a defective toy, an accident attorney in Las Vegas often helps parents pursue product liability claims against the toy manufacturer, distributor, and others responsible for causing the injury.
Chemical and Choking Hazards
The risk of chemical exposures and the presence of choking hazards are the most common causes of toy recalls. Chemical hazards such as phthalate exposure can arise from the paint or other finishes used to coat plastic, metallic, or wooden components. Toxic chemicals can also be emitted from slimes, doughs, and fillings used to create everything from molding dough to stress balls. In all, concerns about toxic exposures are responsible for just over 25% of all toy recalls. Exposure to toxic substances can cause cancers, neurological damage, and other injuries that may develop over time. In some cases, these substances cause death.
Choking hazards exist when small pieces of toys can become dislodged from the toy and ingested by a young child. These include plastic bobbles that can break off, or loose magnetic pieces that can be easily swallowed. In many cases, these toys are produced in China where product safety standards are considerably more relaxed than they are in the United States. Overall, choking hazards are responsible for more than half of all toy recalls.
Cuts, Falls, and Fires
Sharp edges can cause deep lacerations that can require stitches to repair. Bicycles, skateboards, roller skates, and other toys that propel kids down sidewalks and streets can cause serious fall injuries when wheels or other components fail. In instances where these devices contain lithium-ion batteries, such as hoverboards, component failure can also lead to severe burn injuries that can require extensive medical treatment and reconstructive surgery to correct.
Product Liability Claims
When defective designs, manufacturing deficiencies, and/or inadequate warning labels cause injuries to a child, parents in Nevada can pursue product liability claims against toy manufacturers and distributors. Parents can recover compensation to cover the cost of medical treatment, pain and suffering, and other expenses that are incurred as the result of a company's negligent production or distribution of dangerous toys.