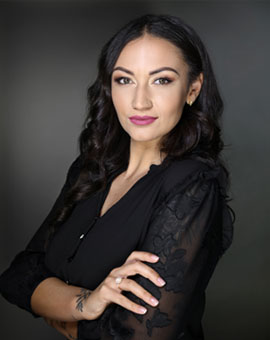 Ash Marie Blackburn is the Managing Attorney at Mainor Wirth. Her pursuit of a law degree started in high school when she attended Advanced Technologies Academy, a Las Vegas magnet school offering a distinguished legal program. She graduated from A-tech in 2007 with a 4.2 GPA.
She has worked within the field of personal injury for eleven years, starting as a copy clerk in 2007. She was quickly promoted to various positions at her first legal job, Mainor Eglet Cottle. Ultimately, she became a paralegal for Ret. Judge David Wall and worked on the trial team that litigated cases arising from a hepatitis outbreak in 2011.
Ash, who was born and raised in Las Vegas, worked at the law firm full-time while attending University of Nevada, Las Vegas. In 2012, she graduated cum laude with a Bachelor of Arts in English. From there, she moved to Arizona for a change of scenery and continued her career as a paralegal at Wattel and York—another plaintiff's personal injury firm. Ash studied for two years to take the LSAT, which benefited her greatly when she was offered full ride scholarships to Sturm College of Law in Denver, Colorado and William S. Boyd School of Law, in Las Vegas, Nevada.
In 2014, Ash returned to Las Vegas to attend Boyd and began working with Mainor Wirth. She began as a paralegal until becoming the Office Manager in 2015. Ash worked in her position at Mainor Wirth while attending law school at night. During law school, she competed in a negotiation competition and received the CALI Excellence for Future Award for receiving the highest grade in "Judicial Writing." Upon passing the bar, Ash transitioned into the Managing Attorney, continuing her role as a liaison between attorneys and staff at Mainor Wirth. She is grateful for the opportunity to work at every level of civil litigation—from copy clerk to attorney—and the special insight it has afforded her at this stage of her career.
Ash is a member of the State Bar of Nevada and Clark County Bar Association. She will also start volunteering with Trial By Peers, a youth court program.