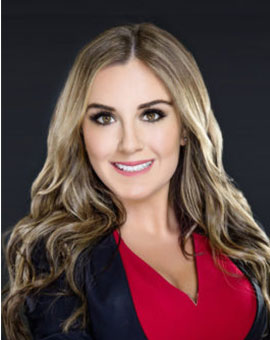 Katie Goldberg is an Associate at Mainor Wirth. During law school, Katie worked at a large civil defense firm where she obtained experience in various areas of law, including general liability and medical malpractice. Katie also interned at the Clark County District Attorney's Office where she gained experience in writing motions and appellate briefs as well as arguing in court.
Katie, who grew up in Las Vegas, Nevada, attended Vanderbilt University where she graduated Cum Laude. Katie then attended the William S. Boyd School of Law at the University of Nevada Las Vegas on an academic scholarship. She was a member of the UNLV Gaming Law Journal. Katie enjoyed her legal writing and oral argument classes. She received the CALI Excellence for the Future Award for receiving the highest grade in the legal writing class titled "Appellate Advocacy" at the William S. Boyd School of Law.
Katie has done extensive research on nursing home abuse and litigation in Nevada. While in law school, Katie authored a research paper examining the poor quality of care in nursing homes in Nevada and proposing how the law regarding nursing homes and assisted living facilities should change in order to protect the elderly from abuse. Katie's paper was selected to be presented at the Inter-professional Health Equity Symposium at the University of Nevada Dental School. Katie also received the CALI Excellence for the Future Award for receiving the highest grade in the class titled "Health Insurance Portability and Accountability Act (HIPAA)" at Boyd.
Katie is a member of the Nevada State Bar, Clark County Bar Association, and Southern Nevada Association of Women Attorneys. She was selected to help plan the Nevada State Bar Young Lawyer's Section Trial Academy at the State Bar Annual Meeting in 2015.
Watch this video of Katie Goldberg presenting her research paper on nursing home abuse in Nevada.
1C. Public Health and/or Access to Health Services Panel Moderator: Peter Reed, PhD, MPH, Director of the Sanford Center for Ag from BSLLibrary on Vimeo.